My Story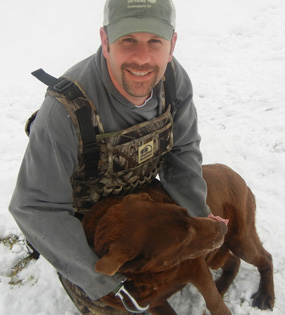 Latest Article: App lets amputees program their bionic hands
Source: USA Today

Riding an ATV on the family farm was a normal part of life for Jason Koger, but on March 1, 2008 a normal springtime ride almost turned into a tragedy when he struck a fallen, live power line, suffering near-fatal injuries in the process.

Jason's injuries were so severe that doctors at the local hospital decided to have him taken by air ambulance to Vanderbilt University Medical Center in Nashville, Tenn., where he was taken to the hospital's burn unit.

Jason woke up after three days in a coma to learn that his life had changed forever. To save Jason's life, doctors had to amputate both of his arms below the elbow, the left arm seven inches below the joint and the right arm six inches below.

A doctor asked Jason then, if he had one goal to live for, what would it be?

"I told him I wanted to hold my two daughters in my arms again," Jason said.

Prior to his accident Jason, worked alongside his father Mike in the family construction business, enjoying time with family and spending time in the woods hunting or in the garage working on cars.

Twelve days after the accident, Jason came home. That same day, he taught himself how to drive again. A month after returning home, he picked back up on his favorite hobby and went hunting for turkey. Over the course of the first year, Jason was fitted with prosthetic arms and relearned the essentials of life, including how to feed, dress and bathe himself. That same year, he also brought home a turkey, three deer, a goose from his hunting trips and even went deep-sea fishing. In July 2011, the family grew again with the arrival of his son, Axell.

Four years later, it's life as normal for Jason and his family. Jason has taken on the mission of sharing his story with others, in the hope that he can be a source of encouragement to other amputees going through the same things he experienced. Whether it's roaming the halls of VUMC and encouraging patients there, speaking in front of groups of people or volunteering with Texas-based amputee-assistance group Arms Within Reach Foundation, Jason has made it a new goal in life to use his story to help others.

Jason is a 33-year-old father of three from Owensboro, Ky. He lives with his wife of seven years, Jenny, their two daughters, 5-year-old Billie Grace and 4-year-old Cambell, and their infant son Axell. He has appeared locally in newspapers, TV news reports and nationally on CNN.